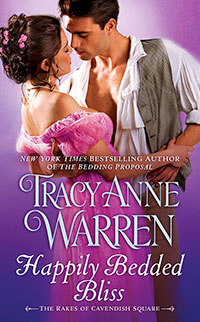 *** Click here to sign up for this offer! ***

The accidental discovery of a certain naughty drawing is what starts the romance rolling in my upcoming novel, Happily Bedded Bliss (The Rakes of Cavendish Square, Book #2). As a special thank you to my readers, everyone who pre-orders the book before its release on March 1, 2016 is eligible to receive a link where they can download seven gorgeous, original drawings (including the naughty sketch of Gabriel, Lord Northcote that lands Lady Esme in a world of scandalous trouble.) These drawings are an exciting visual accompaniment to the story that will be sure to add to your reading enjoyment. So don't miss out! Pre-order today!

How to redeem this special offer:
Pre-order Happily Bedded Bliss from the bookseller of your choice, then fill out the form that will add you to the list of readers who will receive a PDF of Lady Esme's Sketchbook. Please note that you will need your purchase receipt to complete the form. Beginning March 1, 2016, to coincide with the release of Happily Bedded Bliss, you will receive via email the special link that will allow you to download the PDF of Lady Esme's sketchbook. These drawings are an exclusive offer available only to readers who have pre-ordered and will not be available later.