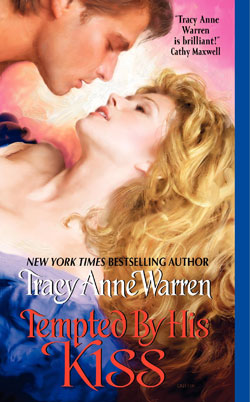 London Society knows the Byrons are "mad, bad, and dangerous," and every bit as fascinating as their poetic non-relation. Join the fun as New York Times bestselling author Tracy Anne Warren presents the first tale of this tempestuous family––famous for scandal and legendary at love…
Orphaned beauty Meg Amberley never planned to pose as Lord Cade Byron's fiancée. Caught in a snowstorm, she takes refuge at his estate. Stranded together, Meg soon finds herself falling under Cade's spell. When the roads clear, she intends to leave, but fate intervenes.
Haunted by his past, Cade Byron has buried himself in the country. Then Meg—with her lush curves and soft, blonde hair—invades his house and his life. With her reputation compromised, he proposes a pretend engagement and a London Season where she can find a husband.

But as their charade deepens, Cade can't let her go . . . vowing to tempt her with a kiss that just may lead to forever.
Accolades
Finalist in the 2010 Aspen Gold Awards for Best Historical Romance.

Praise
"TOP PICK! 4 1/2 Stars Warren's wickedly wonderful and witty romances enchant readers and have made her a shining star. With her new series, she brings a delightfully scandalous family's adventures to light and brightens any day with smart characters, sassy dialogue and sensuality. " ––Kathe Robin, Romantic Times Book Reviews
"With its realistically complex and complicated characters, exquisitely elegant writing tempered with a dash of subtle wit, and lusciously sensual romance, Tempted by His Kiss is absolutely irresistible"—John Charles, Reader to Reader.com
Excerpt from Tempted By His Kiss
Northumberland, England
February 1809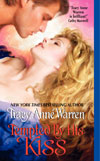 When Meg came down the stairs, she discovered Lord Cade dressed in a heavy, many-caped black wool greatcoat, a beaver top hat on his head. He held an elegant cane in one gloved hand, the solid gold knob on top fashioned in the shape of a fox. A pair of rich emerald eyes winked out of the metal, their shade reminding her a bit of Lord Cade's own unique gaze.

"Ready?" he asked.

She gave a nod, a fluttering sensation curling inside her belly. "Yes."

Despite the crisp sunshine and buoyant blue sky, a frosty chill hung in the air as they walked. She shivered and huddled deeper inside her mantle.

"Cold?" he inquired. "We can go back if you wish."

She shook her head and cast him a glance from beneath her bonnet. "I am fine. It's only that I am not used to the cold weather. It's what comes, I suppose, of being acclimated to warmer climes."

"What do you mean? I can think of nowhere in England that does not take a chill come winter, not even along the coastline."

"True. But until two months ago, I was living in Gibraltar, where It's warm and sunny all year round."

He paused and angled his head in obvious surprise. "Were you indeed? Well, having been there myself, I can understand your difficulty adapting to this weather."

"So you were in Gibraltar, too. When, might I ask?"

"Last year, but only for a couple short weeks while I was awaiting orders."

A curious sensation spread through her at the realization that they had both been in such a distant locale at the same time. What would it have been like, she wondered, to have known him then?

"Odd to imagine we might have met there," he observed, his words mirroring her thoughts. "Still, I suppose the likelihood was never great, despite our being in the same city."

She gestured with a gloved hand. "Yes, but far more probable, I should think, than the chance that we might encounter each other here in the wilds of England. And in the midst of a snowstorm no less. Fate is a very peculiar creature."

His lips turned up faintly at the corners. "Ah, so you believe in fate, do you? Destinies and tales foretold and all such mystical folderol? But then I should not be surprised to discover that you are of a romantic nature."

"I have never considered myself to be terribly romantic, your lordship, but neither do I believe such matters are all nonsense as you say. There is often more at work in situations than mere happenstance. A greater purpose, if you will."

He drew to a halt and leaned toward her. "Is there indeed? And what greater purpose, do you suppose, led you to my doorstep?"

She hesitated, catching her lower lip between her teeth as she considered. "I could not say for sure. Mayhap I was set in your path to test you."

"Test me how?" he asked, his words a low, sleek drawl.

"By encouraging you to try a new routine for one."

"You've certainly done that."

"And by coaxing you out of a measure of your reserve."

His dark brows drew close. "I am not reserved. I merely appreciate my privacy."

"And maybe by reminding you that your face will not crack if you smile every now and again," she chided, softening her remark with a gentle grin.

"Oh, so you have come to teach me to smile, have you? And what of yourself, Miss Amberley? What have you learned over these past two weeks?"

She startled slightly at the question. "What have I learned?"

"Of course. If fate is working its hand, mayhap it hoped to test you as well."

"I cannot think how."

"Can you not?"

Just then, the wind whipped hard, tugging a strand of her hair free of its moorings despite the protection of her bonnet. Before she had any idea of his intentions, Lord Cade reached up and caught the errant lock between his thumb and forefinger. With a touch as gentle as a whisper, he slowly tucked the strand behind her ear.

As he did, the edge of one gloved finger glided over the curve of her cheek, leaving what felt like a line of fire in its wake. In that moment, her breath seemed to still inside her chest, the quick beat of her heart chasing the last vestiges of cold from her body. She trembled, her lips parting as she waited in anticipation, though for what she wasn't entirely sure.

Cade felt his muscles tighten, his gaze roving over her face before lowering to lips that looked as soft and succulent as a peach, ripe for the plucking. And ripe she was--fresh and lovely and undeniably innocent, despite her efforts to don a more worldly guise.

In that moment he lost himself, sinking deep into the translucent blue of her eyes, her cheeks flushed pink with cold, and perhaps something more. Maintaining an easy grip on his cane, he wrapped his hands around her arms-though whether to push her away or pull her nearer, even he didn't know. Then, as if every sane, sensible thought in his head turned to ash, he bent and took her lips.

She gasped, then sighed against him, the breathy little sound making his blood beat hot and thick in his temples, and much, much lower, where it pooled like a fist between his thighs. Her mouth tasted divine, honey sweet and rich as silk, her cool lips warming instantly beneath the insistence of his own. Giving his hunger free reign, he eased his tongue into the satiny heat of her untutored mouth and began to play.

She whimpered and trembled, as if she hadn't known men and women did such things together. Despite her innocence though, she stood willing, even eager, allowing him to explore in whatever way he wished. Drawing her closer, he slanted his mouth to take more, his senses awash in vibrant, vivid pleasure. He reveled in their embrace, an idle awareness running through him that made him wonder if she had ever been kissed before.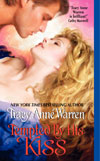 Am I her first?

The question jarred him, triggering some small shred of conscience and bringing him back to his surroundings. He pulled away, dragging in a draught of icy air that hit him like a slap after the moist, delicious warmth of Meg's mouth. As rapidly as their embrace had begun, it ended, Cade setting her away from him with a quick, firm dismissal. Dropping his hands, he took a step away, surprised to find his cane still clutched inside his grip. As for Meg, she stared at him, her eyes hazy with pleasure, her lips red and swollen. She looked like a woman who had been well and thoroughly kissed--which was precisely what she was.

Hell and damnation, he cursed silently.
- top -