Long before I became a writer, I was a reader, so I've always got a bookmark in a novel or research book, often both! Right now, here's what keeping me educated and entertained.

Thrive: The Third Metric to Redefining Success and Creating a Life of Well-Being, Wisdom, and Wonder by Arianna Huffington
A thought provoking, insightful book for our modern times. One great read.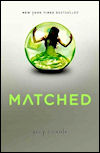 Matched by Allie Condie
I loved the first book in this trilogy. It's a sweetly beautiful YA romance set in a disturbing dystopian world. Excellent.


The How Can It Be Gluten Free Cookbook: Revolutionary Techniques, Groundbreaking Recipes by The Editors at America's Test Kitchen
Wonderful resource for those of us who are eating gluten free these days. I tried the carrot cake. Yum!