Accolades
Winner of the 2009 National Readers Choice Awards Best Historical Romance.
Finalist in the 2010 Aspen Gold Awards for Best Historical Romance.

Praise
4 ½ Stars—"Ms. Warren's plot is one of the best that I have seen in a historical romance in a long time and her descriptive talent of writing makes you catch your breath and sigh as a reader."––Tammy Faris, The Romance Readers Connection
4 ½ Stars TOP PICK!––A marriage-of-convenience love story that deeply touches heart and soul."––Kathe Robin, Romantic Times BookReviews
"Another topnotch read from Ms. Warren."––Suan Wilson, Fresh Fiction
"A poignant, heartbreaking, funny and sigh-worthy romance. I can't wait for more of these mad, bad Byrons. Warren just keeps getting better."––Valarie Pelissero, Rakehell.com
Grade A––"Trumps most of the paranormal and contemporary romances that I've read - ever. Engrossing. I didn't put it down once."––Jacqueline C., Eclectic Book Lover
Top Pick! "SEDUCED BY HIS TOUCH is one book that I would never part with; It goes on my bookshelf with my other keeper novels, to be brought out and read while waiting for the next masterpiece from this author. Brilliant!" ––Angela Arno, Romance Reader at Heart

Top Pick 4-3/4 Stars! "Warren is masterful at her craft, creating a story full of a rich storyline, peopled with interesting, intriguing characters, weaved with decadent seduction." ––Danya, Night Owl Romance
"A must-read for historical romance lovers!" ––Margay Leah Justice, Pop Syndicate.com
"Warren crafts an unforgettable Regency in this compelling blend of bliss and angst. True emotional ambrosia. Fabulous." ––Sandra VanWinkle, ReadertoReader.com
Excerpt from Seduced By His Touch
Sydney Gardens
Bath, England
September 1809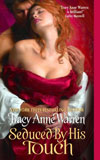 "I understand there is a labyrinth here," Lord Jack Byron said. "Do you like mazes?"
Grace Danvers nodded, her eyes appearing more blue than gray today in the brilliant sunlight, her red hair gleaming like fire-colored silk beneath her bonnet. Jack's hands itched to slip the little hat free of its moorings and send it sailing, so he could spear his fingers deep into her tresses. He nearly reached for her, but stayed himself. He'd waited this long, he could wait a while more.
Quietly, he cleared his throat. "Shall we go inside, then?" he asked, directing their footsteps along the path that led to the labyrinth. "I'll even give you the advantage of going before me. We can make a game of it and see which one of us reaches the center first."
"I haven't been inside a maze since I was a little girl," she confided.
"Then it would seem a repeat of the experience is long overdue."
They soon arrived at the maze entrance, the precisely trimmed boxwood hedge rising upward in a seemingly impenetrable wall of thick leafy green. The warm, ripe scent of vegetation hung in the air, birds chirping in nearby tree branches, while a pair of butterflies danced on the light breeze.
Yet Jack was barely aware of anything except the woman at his side and his anticipation of the mock hunt to come.
"I'll give you to the count of ten," he declared. "Hurry along now, else I catch you." Crossing his arms over his chest, he turned his back to the maze opening. "One!"
Grace sprinted away.
"Two!" he called in carrying voice. "I can still hear you."
She giggled, bushes rustling as she clearly ran into her first obstacle.
"Three!"
The sound of her passing grew more distant, the accelerating beat of his heart taking its place.
"Four!"
He heard an "oh drat" and smiled, trying to estimate how far into the maze she had likely traveled.
"Five!"
Her footfalls faded into silence, as he fought the urge to turn in search of a lingering view.
"Six!" I shouldn't have given her so much time.
"Seven!" What if she eludes me?
"Eight!" What if she doesn't?
"Nine!" Almost there.
"Ten! Ready or not, here I come!"
Turning sharply on his heel, he headed inside.
Grace bit her lip and forced herself not to giggle, her feet flying as she hurried along a narrow corridor of greenery that towered far above her head.
A few moments later, Lord Jack finished his count of ten and started after her. Soon, a distant rustling sounded as if he must have blundered into the same trap in which she'd also been temporarily ensnared. But he was smart and resourceful and would soon find his way free.
Knowing she dare not waste a second, she continued on. Yet each turn looked frustratingly like the one before, every angle leading to a potential trap. Coming to a new break in the foliage, she stopped and looked right, then left––wondering which choice led in the correct direction.
Behind her, she couldn't hear Jack at all now, his progress silent despite his large physique. He might be tall, but he was agile, both quick and stealthy on his feet. She knew how a doe must feel being pursued by an experienced hunter. Her heart thudded beneath her breasts, her breath issuing in soft gusts––though with excitement, she realized, not fear.
Making a random choice, she turned and dashed forward, the pale blue skirt of her India muslin gown floating around her as she ran. The move led her deeper into the labyrinth, drawing her in ever tightening circles, each one more bewildering than the last.
Twice, she had to double back, worried every time that she would stumble upon Lord Jack, or he upon her. But as the minutes ticked past, she realized that he must be as mired in confusion as she. She also became aware of the fact that the two of them were completely alone––no hint of other human voices or movement anywhere in the vicinity.
Finally she sensed she was nearing the center of the maze, her goal barely feet away. But being close to the middle, and actually finding it, were two different things.
Turning again, she glided forward, her steps bringing her into a square-shaped section of hedge that functioned as a box. An inescapable box from which there was no exit save the one through which she had come. Trapped, she raced back toward the break in the vegetation.
She was just passing through when a long male arm emerged seemingly from out of nowhere to coil like steel around her waist. She squealed, the sound reverberating in the air, as she twisted for a moment in Lord Jack's grasp.
"Got you!" he exclaimed, triumph plain in his voice.
"Oh, you scared me!" she said, breathless as she met his gaze. "You're as silent as a breeze."
"And you're as lithe as a gazelle, slipping from row to row as though you were made of fog. For a few moments, I thought I'd lost track of you."
"This is a tricky maze. The center is nearby though. Shall we both dash to find it?"
A gleam came into his eyes, along with an expression she'd never seen him wear before. He shook his head, his gaze roaming over her face before lowering to her lips.
"No," he murmured in tone as rough as gravel. "I have what I came to find."
She trembled, abruptly aware that he was still holding her against him. Her heart leapt when he reached up and began untying the bow that anchored her bonnet in place.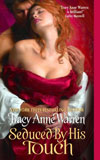 "What are you doing, my lord?"
He smiled. "Claiming a forfeit. I caught you. I believe I deserve a reward."
"B-but the game isn't finished."
"You're right about that," he mused aloud, lifting her hat from her head. "The game has only just begun."
Without giving her time to consider, he tossed her bonnet to the ground, then tipped his head and kissed her.
- top -